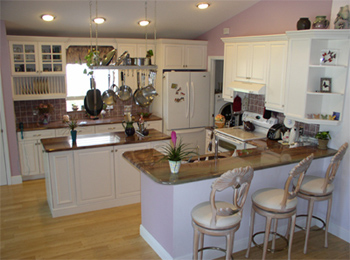 Our committed staff will work hand-in-hand with you from consultation to completion including you as a vital part of the process.

Since no two projects are alike, we believe that your signature project should be all about your choices.

++++++++++++++++++++++++++++++++++++++++++++++++++

Testimonials
June 15, 2009

This letter serves as a testimonial to John Wurtenberg, Jr.'s expertise as a craftsman who has created and performed numerous projects in our home. From his responsibility in arriving on the job on time as scheduled and doing thework in a clean and workmanlike manner, he is far superior to most of the contractors we have dealt with in the past.
He has also done carpentry and cabinetry installation for many of our friends, and they all hold him in high regard.
We would recommend John to anyone.
Sincerely,
Gay & Richard Sanders
++++++++++++++++++++++++++++++++++++++++++++++++++
Our experience with JBerg, Inc. during our recent condo remodel was exceptional. We replaced all of the kitchen cabinets and all bathroom vanities. His work was timely, his design and ideas innovative, and the final product was professionally done. We were especially satisfied with the custom computer desk he designed and built. Overall, our experience with JBerg was exceptional. We would use him again and recommend him to others without reservation.
Bob and Janet Meisterling
++++++++++++++++++++++++++++++++++++++++++++++++++
Our kitchen is absolutely gorgeous thanks to jberg. John took time with us explaining all the aspects of the project and had several excellent suggestions which we incorporated. We had a limited time frame in which we needed the project completed. John agreed to have it finished within that time and HE DID !! We have recommended jberg to others and will continue to do so in the future.
Cliff and Barb Kasdorf

++++++++++++++++++++++++++++++++++++++++++++++++++
My wife and I would like to take a moment of your time to let you know how satisfied we have been with your ideas, plans, and completed projects. You have done quite a few projects for us and we have always been pleasantly surprised by your imagination, consistency in completing each project, and attention to detail so often sadly lacking with some other contractors. We appreciate that when you contract for a project you begin when you say you are going to and you stay with it until it is finished. We have never been disappointed by your work ethic and your ability to incorporate changes when we decided to make them mid-way through a project. We thank you and look forward to many more custom designed and developed projects by you.
Sincerely,
Glenn & Pam Shoffler
++++++++++++++++++++++++++++++++++++++++++++++++++
I can not thank you enough for the beautiful job you did on our kitchen. The layout and the workmanship is absolutely perfect. I know that we have worked on other jobs together, but when it is your own and you live with it every day, I now understand the detail that you put into all your work. Shirley and I have both said that this is the nicest kitchen that we have ever had. I will continue to highly recommend you to all of my customers and friends.
Thanks Again,
Ron Arthur